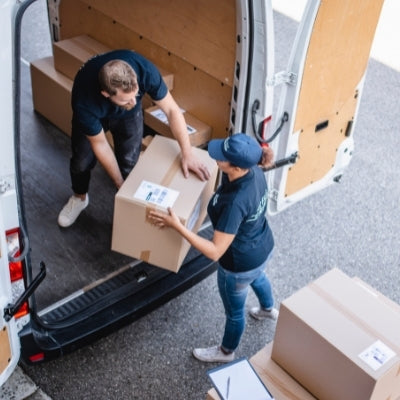 Free 2-person delivery to UK mainland
Includes room of choice (ground floor), unpack and position, and removal of packaging.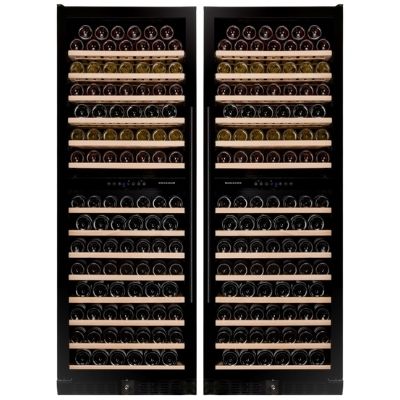 Take advantage of our multi-buy discount
Receive a discount when buying two or more wine cabinets from us. Get in touch.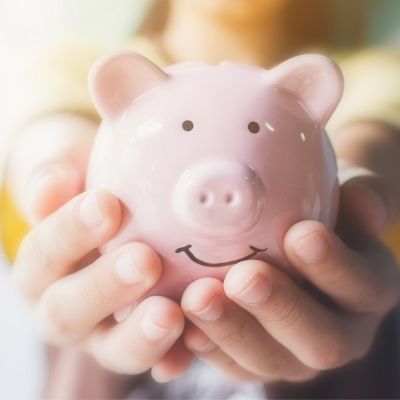 Price match promise
Seen a better price elsewhere? Let us know and we'll do the rest.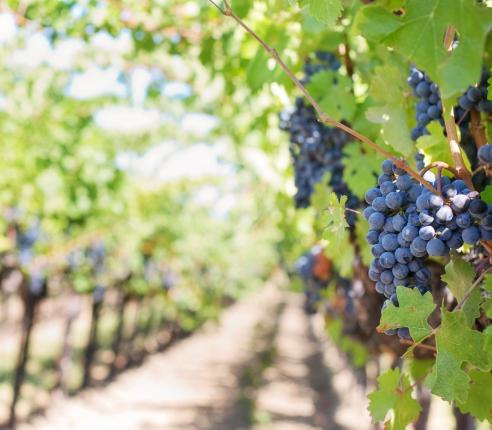 Wine Fridges, Wine Coolers and Wine Walls
There are many different types of wine coolers and wine walls available on the market today - you will find your search is full of misleading information and poor quality products, which is why we only carry reputable, high-quality brands from around Europe.
At Elite Wine Refrigeration, we want to make your buying experience as easy and as fruitful as possible, so before beginning your search for your new wine cooler, wine wall or wine cabinet, it is recommended to learn about which type of unit is best for the space you have.
We have given a brief overview of the different types of products below - please don't hesitate to contact us if you have any questions.
Built In Wine Coolers
This type of wine cooler are primarily undercounter units designed to sit on the floor and in most cases have kitchen cabinets built around them to create a seamless look. Built in wine coolers are designed to be used as undercounter units so they can fit neatly into kitchen cabinets.
These are available in standard widths of:
150mm, 300mm, 400mm, 500mm and 600mm - however, there are a selected few tall wine coolers that can be built in as well.
Built in wine coolers can also be utilised as freestanding wine coolers, the only difference being they have a vent at the front to allow for enough ventilation to cool the compressor and evaporator.
Shop Built In Wine Coolers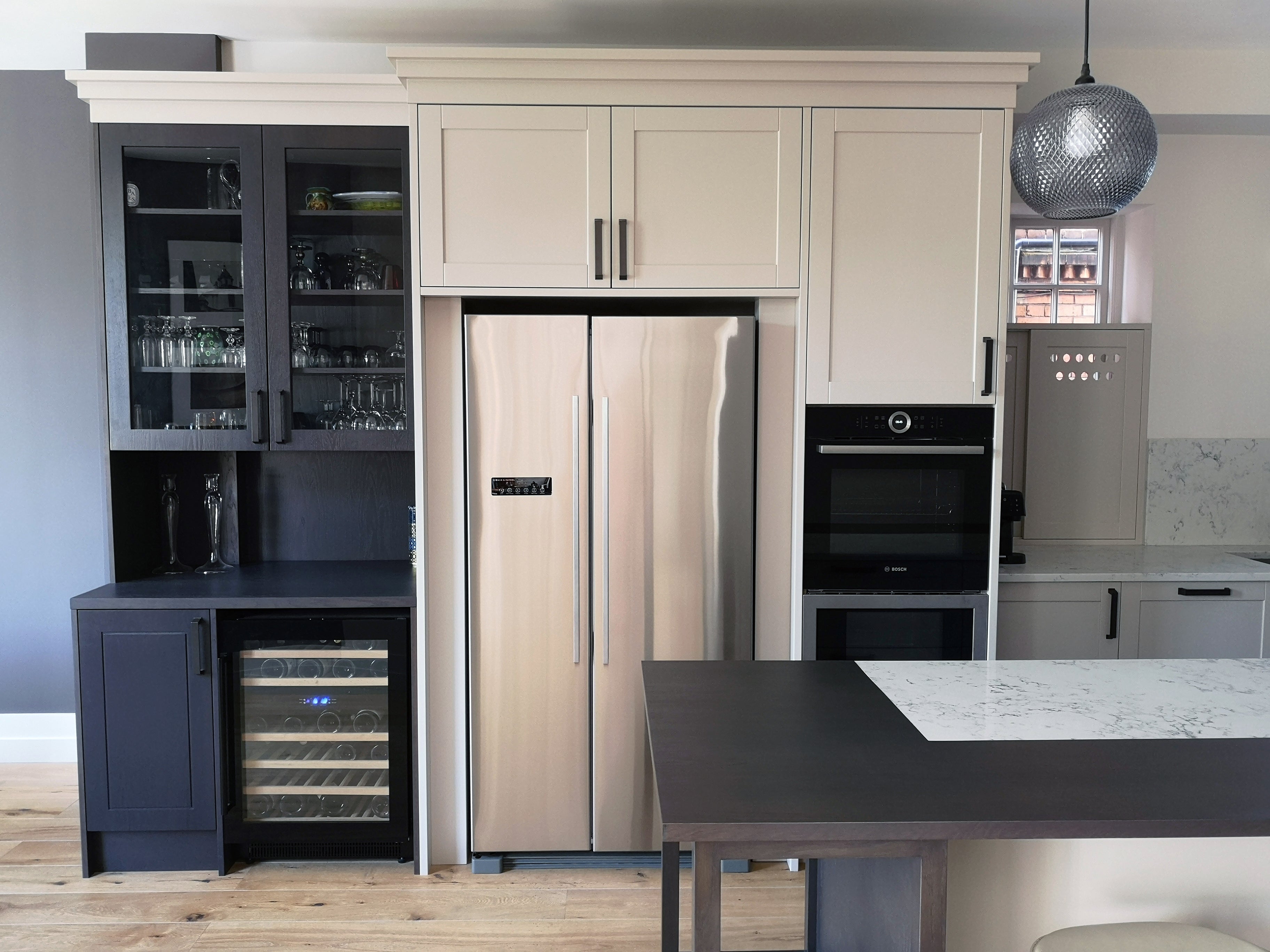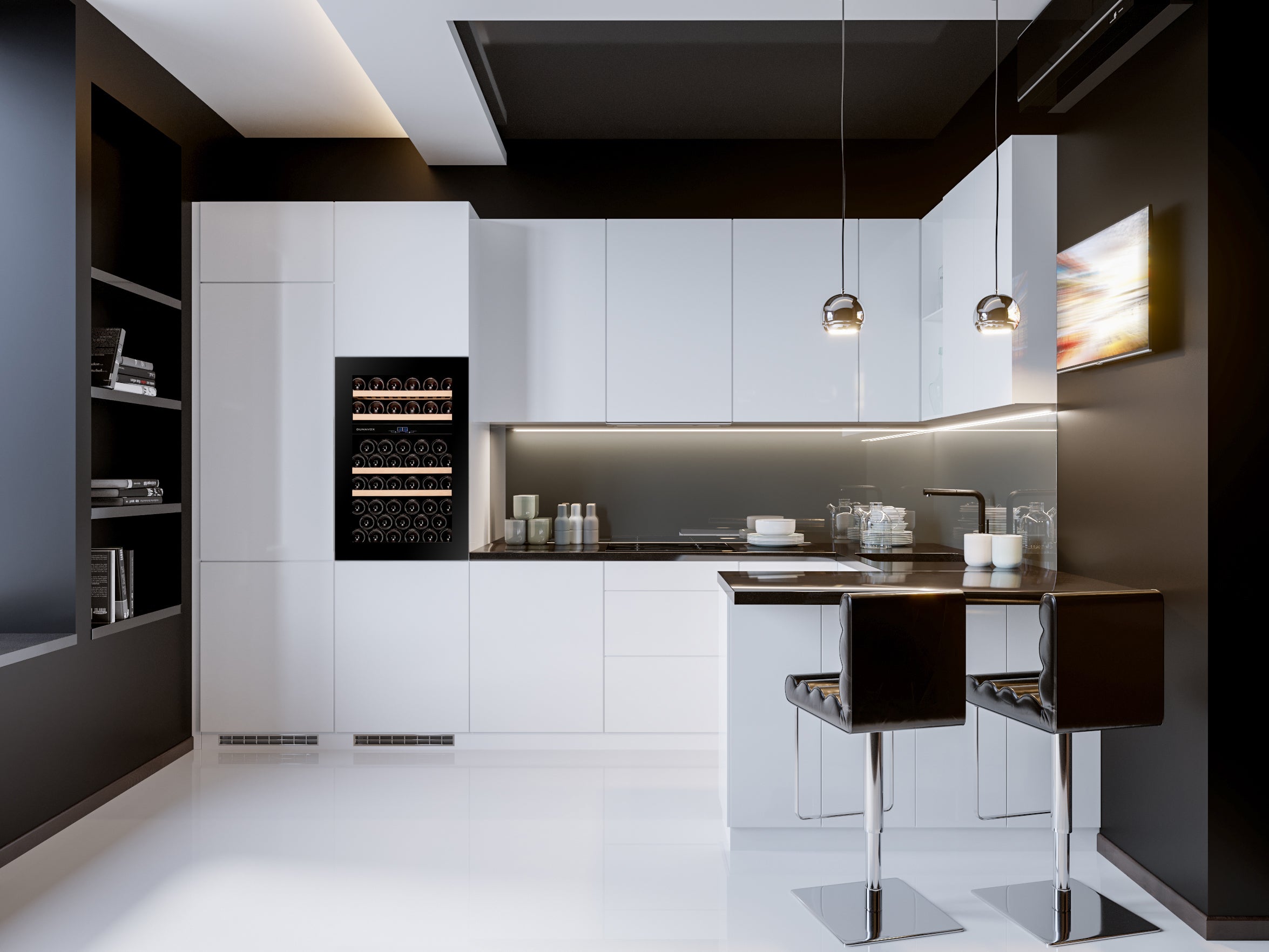 Shop Integrated Wine Coolers
These are designed to sit inside a kitchen cabinet that is open at the back for ventilation. This type of wine cooler will sit alongside ovens, integrated coffee machines and microwaves - creating a floating, seamless look.
Available in standard heights of 455mm, 595mm, 885mm, 1234mm and 1778mm – integrated wine coolers are manufactured to match the same sizes of other kitchen appliances, such as integrated ovens and microwaves. 
This type of wine cooler can also be fully integrated with a few wine coolers allowing a kitchen cabinet door to be attached to the front of the door.
Shop Integrated Wine Coolers
Freestanding Wine Coolers
This type of wine cooler is a great addition to any home and comes in a few varieties such as ageing cabinets and multi-purpose wine cabinets which can be used to store wines whilst holding a small selection at serving temperature.
The number one misconception in the wine cooler industry is that a freestanding wine cooler is designed to be used as an undercounter wine cooler. When utilised as a built-in unit, this type of wine cooler will overheat and void the manufacturer's warranty as it has no way of drawing in cool air to cool the compressor and evaporator.
A freestanding wine cooler should be well-ventilated meaning at least 3-5 inches around the sides of the ventilation space and they should never be enclosed from above.
Shop Freestanding Wine Coolers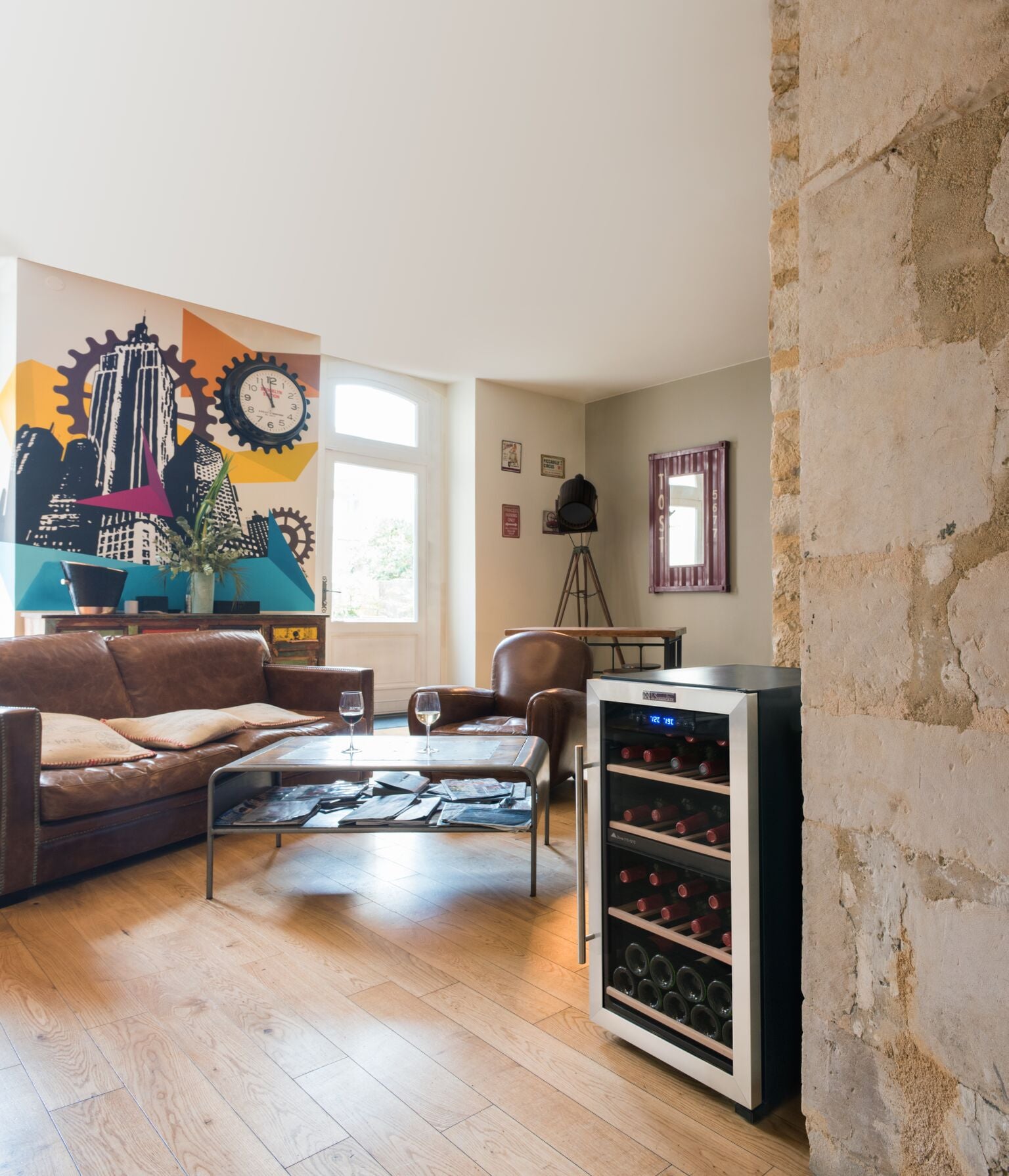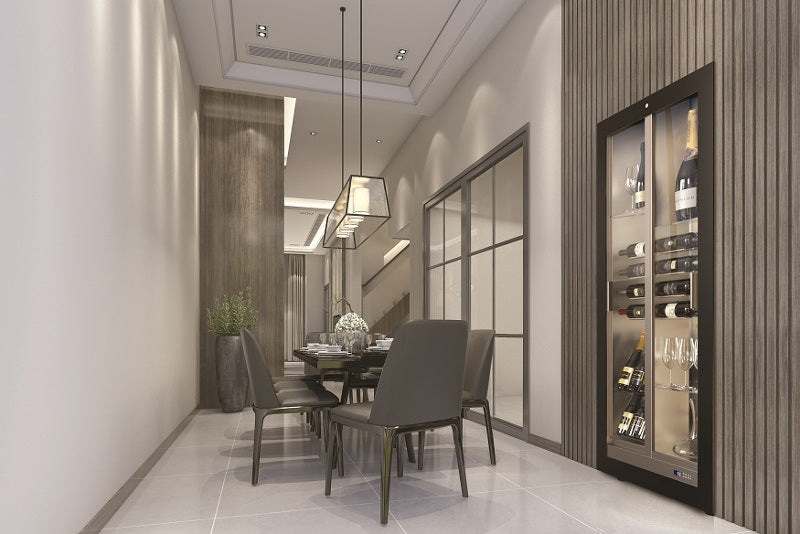 Luxury Wine Walls
Wine walls are slightly different to a traditional wine cooler - our refrigerated systems are suitable for home use or commercial environments.
With an array of sizes with varying bottle capacities, you can build your wine wall to fit any decor by choosing the frame, lighting options and other finishes - the possibilities are endless.
We boast a substantial range of luxury wine walls with some that are suitable for freestanding use only and some that can be built-in with cabinetry around them, just like the integrated and built-in wine coolers mentioned above.
Shop Wine Walls
Wine Cabinets
A wine cabinet is a freestanding unit designed specifically for the long-term storage of wine, there are two varieties with the main difference being the material they are produced from.
A typical wine cabinet is constructed from metal and is designed to maximise bottle capacity whilst keeping the bottles stored at the ideal storage temperature and humidity all year round.
Some models are even equipped with a winter protection system, which means you can safely use your cabinet in colder conditions for example, in a garage or outbuilding.
Shop Storage Cabinets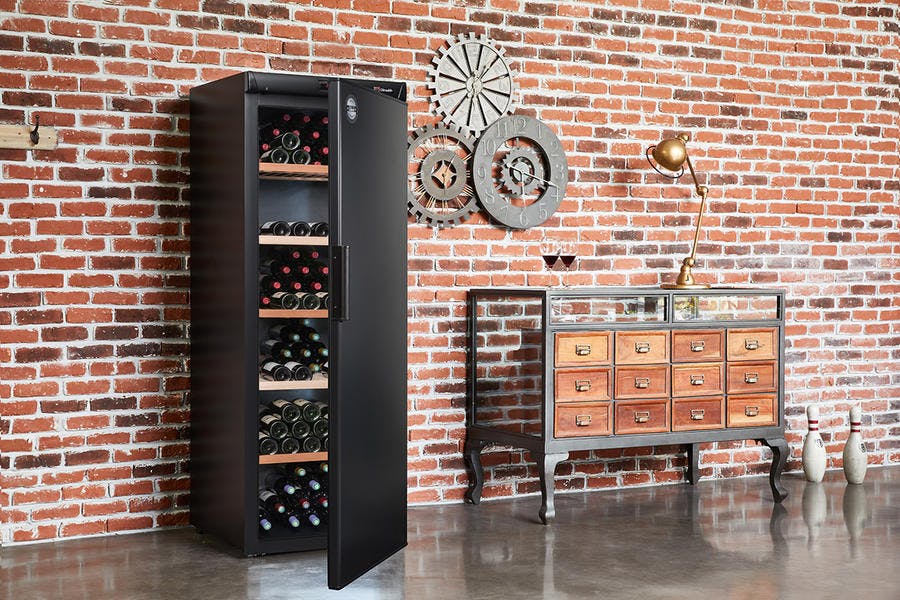 FAQs Related To Wine Coolers, Wine Fridges & Wine Cabinets
Below we will provide some FAQs relating to wine coolers that will help you with your purchase...
A wine cooler is a great investment for wine connoisseurs as they guarantee the longevity of your favourite wine bottles. There are three types of wine coolers to choose from: freestanding, fully integrated and built in wine coolers. Each of these serves as fantastic wine storage units in order to display your favourite bottles. In addition to these, you can choose to have wine cabinets as well as wine walls for either commercial or domestic reasons.
The answer to this question ultimately depends on the wine storage unit you have selected. For instance, if you have opted for a single-zone wine fridge, you should be aware that you will not be able to store various types of wine as they have their own storage conditions. For instance, for red wine, it is recommended that these bottles be stored at temperatures between 12˚C < and 19˚C. Whereas the likes of champagne and white wine need to be stored under temperatures of 5˚C < 8˚C and 8˚C < 12˚C respectively.
The ageing of wine can be a rather complex process given that your desired wine bottles will need specific conditions in order to obtain the optimal results. The most common conditions that obtain satisfactory results are for your bottles to be protected from direct sunlight as the UV rays can interfere with the ageing process whilst also ruining the contents altogether. In addition to keeping your bottles away from direct sunlight, you should also store them at a stable 13°C whilst also maintaining a humidity level of around 70%.
Each of the amazing wine coolers that we provide at Elite Wine comes with its own dimensions within the specifications of each product. Making for an accurate depiction of the storage unit you will receive allowing you to take the necessary measurements beforehand. For instance, our built-in wine coolers can fit perfectly under kitchen counters - blending seamlessly into the interior. With this in mind, if you are still unsure or would like to speak to one of our experienced staff members, please feel free to get in touch with us.